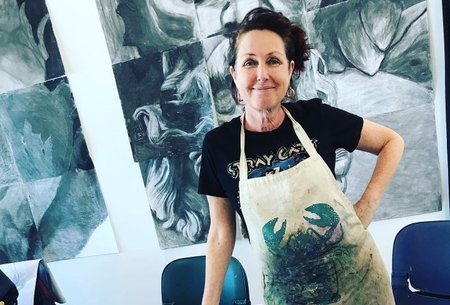 Retail
Village Wine Shop
Queen's parade, Clifton Hill, MELBOURNE
Buena Vista Marengo
Marengo, APOLLO BAY
Take me to the sea. Find me in the clouds. Lose me in the blue.
I am a Melbourne based artist with an undeniable infatuation with all the blues and greens. I love the moodiness of a brooding sky and the emotional swell of the ocean.
Whether working on a large scale abstract or a smaller figurative piece, it is always about emotions, colour and texture.
I read somewhere recently that everyone is either a freshwater or a saltwater person. The salt is where it's at for me.
Big Nature
Arts Inc Gallery, Apollo Bay I Group exhibition, 2 - 14 April 2021
44th Apollo Bay Art Show
Apollo Bay | 2 - 14 April 2021
At Sea
Southern Buoy Studios, Mornington I January 2021
Truth To Be Known
inCube8r Gallery, Prahran | March 2020
43rd Apollo Bay Art Show
Apollo Bay | 2020
re:CREATE
Neon Parlour, Thornbury | 2019
42nd Apollo Bay Art Show
Apollo Bay | 2019
Small Works Art Prize
Brunswick Street Gallery, Fitzroy I 2019